You are here
Carleton University Women in Science and Engineering
Several years ago, there was a Women in Science and Engineering, or WISE, group at Carleton University. For whatever reason, it quietly disappeared. In the 2007-2008 school year, four girls worked to bring it back, and asked me to join the team to help.
By the end of the year, the group had held several successful events, including talks on working in research for the government, and how to balance having a family while in academia. We had good attendance, and lots of great suggestions for what would be most useful next year.
Our group has grown rapidly and is receiving a lot attention. You can learn more about us (including past events) on our official website and blog.
Building an Identity
During the summer of 2008, we worked on building our identity in time for the start of the school year in September. I designed a logo that has two versions for use in particular scenarios.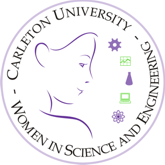 The woman in the logo captures a delicate, feminine touch, while the symbols represent most aspects of engineering, math, and natural and computer science.
With this logo, and our decided acronym of CU-WISE, we created an informational brochure and poster. (After we've grown so much since then, these items are somewhat out of date in terms of our mandate). I designed and produced these items.
We all helped design and put together our official CU-WISE web site. We felt it was very important to have something that looked simple and professional, but also that was updated with relevant content regularly. I am never impressed by student groups (or businesses, for that matter) that have stale content on their sites, no matter how flashy they look. A lot of my ideas were incorporated in this process, including the CU-WISE Blog and member profiles.
Next, CU-WISE needed a Mission and Vision statement. I helped narrow down our sentiment to the following final product:
Mission: CU-WISE is a group of undergraduate and graduate students who believe that women should be able to seek higher education and achieve success in science and engineering without barriers, perceived or otherwise.

Vision: CU-WISE aims to become a permanent academic and social support network for female students in science and engineering at Carleton University.
We also created a set of outreach giveaways for middle and high school girls, such as fun buttons and postcards explaining what life in science and engineering is all about.
Executives and Officers
In the beginning, I did not have a specific role - I was a "Jill of All Trades" Executive because of my previous student society experience and graphics abilities. I was able to encourage use of several Google Apps (docs, calendar, etc) to help keep us organized, and offered much insight into planning events and the like.
I also encouraged the other girls to consider attending the 2008 edition of the Grace Hopper Celebration of Women in Computing, a conference I learned about while in New York City for the Google Anita Borg Scholar's Retreat. The others weren't sure we'd be able to secure funding, but I continued to be optimistic and helped us find enough support to attend with all expenses paid! As you can see on our blog, it was well worth the effort.  We even managed to send another group in 2009, and will try to do so each year.
After the conference, we decided we needed to restructure CU-WISE and bring more women closer to the executives. We were starting to need the extra help. I became the new Internal Affairs Executive, who takes care of everything related to our current members. Other positions became External Affairs Executive, Planning Executive, Financial Executive, and Virtual Communications. We also found several Officers to help with outreach, advertising, fundraising, event planning, and blogging.
Conference Talks
Fellow executive Barbora Dej and I attended NCWIE (National Conference on Women in Engineering) in November, 2008, to speak about how to start your own group like CU-WISE.  Our audience was very receptive, and some said it was the best facilitated talk they had ever attended.
The entire CU-WISE executive later gave an updated version of the talk at the 2009 Grace Hopper Celebration of Women in Computing.
Ongoing Activities
Since our first year, CU-WISE has grown immensely.  We now have around 300 subscribers to our mailing list and hold many popular social, academic, and mentoring events each year.  Here are some examples of what our group does:
Participates in outreach activities like GoEngGirl and Design Tomorrow's World.
Hosts an athletics class at least once a year (e.g. yoga and Zumba).
Hosts many events for topics from entrepreneurship, work-life balance, getting an academic position, and more.
Share news and information about relevant local events, scholarships, and jobs on our mailing list.
Carleton Celebration of Women in Science and Engineering
This post I wrote on the CU-WISE blog explains the reasoning behind this event well:
Ever since I attended my first Grace Hopper in 2008, I've dreamt of having our own celebration here at Carleton, no matter how small. My dream is finally coming true. I'm very excited to announce the very first (and hopefully annual) Carleton Celebration of Women in Science and Engineering!

The idea with this event is to bring together Carleton women who are studying or working in any science or engineering discipline, and share with each other and the rest of the Carleton community what we've been up to. After the talks, the idea is to get the speakers together for dinner on us. The Celebration will be a wonderful opportunity to network and to socialize. It is important to show ourselves that we are not alone and that we do amazing things!

So take a look at our Call for Proposals, and consider being a speaker! You don't need to be an expert - you just have to share something interesting you've been doing lately. Only a short description of what you want to talk about it required, so what do you have to lose?
This one was on my own blog, and summarizes the success:
Last week Carleton's Women in Science and Engineering hosted the very first Carleton Celebration of Women in Science and Engineering, and it was a great success!

I organized this event after being inspired by the Grace Hopper Celebration of Women in Computing. The networking opportunities, the ability to find role models, the chance to hear the latest and greatest research being done by women in my field... I wanted to bring that to Carleton, even if it would be on a smaller scale.

My main goals were to showcase what the Carleton ladies in science and engineering have been up to, and to give us an opportunity for us to network, since WISE spans so many technical and scientific disciplines. I think we succeeded on both counts!

In terms of getting the word out about what we do, I had a media advisory sent out from Carleton's external communications office and managed to get an interview with the CBC, Canada's public broadcasting company. Terri and I prerecorded an interview with the Morning Show host Kathleen Petty to be played the morning of our event. In addition to the actual event, we talked about what got us into computer science, why women are such a minority, and what to do about it. Terri's boyfriend recorded the interview as it streamed online, and you can listen to it now from the CU-WISE website.

During the event, I saw so many new connections being made. For example, there were a few talks from biologists, who many of us engineers and computer scientists would never have had the opportunity to meet otherwise; some of them are even jumping on board to help out with CU-WISE. There were also multiple people talking about their outreach efforts, some from science and some from engineering, and now they want to work together. The networking continued during the speaker's dinner (which was covered by the event's funding).

I can't tell you how happy I am with this event overall. With the help of my fellow CU-WISE executives and officers, the room looked great and the day ran perfectly smoothly. Every single speaker did an amazing job. The quality and enthusiasm was nothing less than exhilarating. Thanks to everyone involved!