You are here
Media Attention
Highlighted as a STEM Blogger to Inspire our Daughters
My blog was included in a list of Spectacular Female Scientist Bloggers Who Can Inspire Our Daughters in STEM:
Gail Carmichael is a computing education, program manager at Shopify, turning CSeducation inside out. She reviews great books on women in science too!
Listed as an Inspirational Woman to Watch in 2017
I was included in a list of 30 Inspirational Women to Watch in Tech in 2017 on Inc:
A highly regarded computer scientist, blogger, and educator, Gail is currently the External Education team leader for Shopify. The mission of the group is to make the experience of learning computational thinking and computer science better for everyone. Projects are designed to focus on one of four thematic groupings: policy, outreach and diversity, degrees and apprenticeships, and academic research. She also helped co-found the Carleton Women in Science and Engineering and is passionately devoted to sharing her joy of technology and computer science with girls and women.
Featured in article about Carleton Shopify Bachelor of Computer Science Partnership
The story of our BCS Partnership was featured in Carleton Stories:
In January 2016, Carleton Faculty of Science Dean Malcolm Butler and Doug Howe, director of the School of Computer Science, met with Lemieux and Shopify's manager of external education programs, Gail Carmichael, who has a bachelor's degree and a master's in Computer Science from Carleton and is three-quarters of the way through her PhD. Everybody agreed that an internship could work, and staff at the university and company have spent the last few months ironing out the logistics and details.
Featured in article about Carleton alumni at Shopify
Myself and two other Carleton alumni were featured in a Carleton newsroom article.
Carmichael, who has both a bachelor's degree and a master's in Computer Science from Carleton and is three-quarters of the way through her PhD, suggested to a Shopify recruiter last year that the company had grown large enough to hire somebody to promote diversity and outreach. Somebody to encourage more women and other under-represented groups to consider tech careers.

Initially, she was brought aboard as a developer but quickly shifted to her current custom-made role. There are myriad learning opportunities within Shopify; she is focused on people who don't work for the company.
Read Shopify Scoops up Carleton Grads online.
Featured in the GEreports Women in STEM Series
I was interviewed for an article that appeared March 10 2016.
It used to be that formal education happened in schools, but Gail Carmichael is proof that's an outdated concept. As the manager of external education programs at Shopify, she's in charge of forming partnerships between secondary and post-secondary educational institutions and the Ottawa-based e-commerce software company. As a former Carleton University computer science instructor, Carmichael is right at home creating opportunities for young people — and, by extension, the industry, too.
Listed on List of Tech Blogs by Women to Follow
My blog, The Female Perspective of Computer Science, was include on Destination Femme's list of top 5 women tech bloggers to follow:
Gail Carmichael is a computer scientist, educator and avid blogger. Her blog posts consist of various tips on how to use platforms such as GitHub and learning programming languages such as Python. We love her enthusiasm and simple style of writing. As she states in her blog, her goal is to  improve CS education for everyone and encourage girls in particular to give computer science a try.
Featured on TechGirls Canada's Portraits of Strength
"Portraits of Strength features women in STEM who have helped break barriers and achieved great things within their industry. These are the movers and shakers making a better world for future female leaders in STEM." I was featured in August 2014.
I am proud of my work in education and outreach. I am proud of the impact I can make in these students' lives, and appreciate the opportunity to shape their views of a wonderful and exciting field.
Featured for WinIT Month
The NSERC/Pratt & Whitney Chair for Women in Science and Engineering (Ontario) ran a WinIT (Women in IT) feature November 2013, where they highlighted a new woman in technology every day.  I appeared on the second day (November 9):
My advice: figure out what you're passionate about.  Explore how computing and technology can make a difference in that area.  If you are doing what you love, the rest will become that much easier.
Featured in News Article about Go Code Girl
The Go Code Girl event at the University of Ottawa was featured in a news item on their engineering website:
Go Code Girl was an effort to showcase women who are studying and working in computer science fields. Gail Carmichael, a PhD student from Carleton University and the brainchild behind her blog "The Female Perspective of Computer Science" was the lead instructor and course creator for Go Code Girl.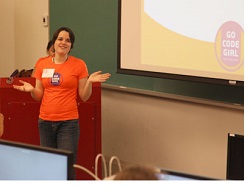 Read the rest of the article here.
Video Interviewed for Inside OCULA Article on Library Video Games Collection
The Ontario College and University Library Association's online magazine, Inside OCULA, ran an article about our video games collection: More than Mario Kart: games and game-based learning at  Carleton University Library.  They video interviewed me to find out what I found valuable about having access to both board and video games.
Featured in Research Article 'Creating Compelling Computer Games'
An article about my research (Creating Compelling Computer Games) was published online by Carleton University. Here's a snippet:
A team of Carleton researchers is trying to find out why so many computer games shy away from using nonlinear storytelling techniques – that is, techniques that help present stories out of chronological order. Traditional media like films and novels use all kinds of interesting nonlinear techniques, like those found in Run Lola Run, Groundhog Day and Memento. Many games tend to stick to fairly simple techniques like flashbacks, but more sophisticated approaches could result in more games with critically acclaimed stories.
Mentioned in Women of Influence article 'Times Have Changed'
Based on my interview in Bit by Bit (below), an article on Women of Influence featured a bit about me.
Profiled in Book on Women in Tech
I was interviewed and profiled in a book designed for women considering a career in tech. The book is called "Bit by Bit: A Young Woman's Guide to entering and succeeding in High Tech Careers."  It is currently available on Lulu and should be on Amazon soon.
Featured on STEMinist
I was interviewed and profiled for the STEMinist website in an article called Gail Carmichael, Ph.D. Student, Computer Science.
Honoured at Celebrate Her 2012
It was announced on Twitter that Serena Ngai and I were nominated for Celebrate Her for our work with Girl Develop It Ottawa:
Meet GirlDevelopItOttawa founders @SerenaNgai + @GailCarmichael nominated for #CHER2012 by @robdup @kristopherwong ow.ly/8qlth

— Amanda Cottreau (@CelebrateHERorg) January 12, 2012
My profile can be seen on the official website.
Featured in The Huffington Post's List of Women in Tech to Follow
As part of The Huffington Post's series on women in tech, I was number 12 and one of the only practicing technologists in their original list of 27 women in tech to follow on Twitter.
Appathon Team Featured in Carleton Newsroom Article
Our team won the "Most Technically Challenging" award for the Great Canadian Appathon.  Our story was featured in the Carleton newsroom:
The Carleton student project called Sandscape was designed to help players remember those happy, sunny days at the beach when the most important thing in their lives was a competition to see who could build the biggest network of sand trenches.
Featured in National Post for the Great Canadian Appathon
As one of the few female developers in the nation-wide competition, I was interviewed and featured in a National Post newspaper article:
Gail Carmichael is accustomed to being something of an anomaly.

It's not because the 27-year-old computer science PhD student is wired-in to her Acer laptop at the Carleton University hub for the Great Canadian Appathon, sporting a blue "You had me at Hello World" t-shirt.

It's because she's the only female coder in the small classroom.
The Top 50 Computer Science Bloggers
Listed as number 3 as a student blogger:
3. The Female Perspective of Computer Science : It is well-known that women are underrepresented in this field, which makes a female blogger like Gail Carmichael particularly interesting. Get this PhD student's perspective on getting by in this subject.
10 Terrific Tech Blogs
My blog, The Female Perspective of Computer Science, was listed as number 7 on a July 2010 BlogHer article called Want to Find Women Blogging Design, Coding and Gadgets? 10 Terrific Tech Blogs.
VII. The Female Perspective of Computer Science

The Female Perspective of Computer Science is from Gail Carmichael, who is working on a doctorate in Computer Science. Her fields of study include educational entertainment and augmented reality, both of which get discussed on the blog. Other topics include visual computing, games, events, computer science and women.

Recently she wrote about Getting the Hang of iPhone Development.

I needed to learn how to develop for the iPhone since the projects I want to work on next will be games for the device. This task was somewhat daunting, given that I hadn't really even used a Mac before, let alone Objective-C or Xcode. Luckily, there are some really great resources out there that you should check out if you are also just getting started.

So far, the most invaluable resource for me has been the Stanford iTunes U lectures on iPhone development. After watching the lectures via iTunes, you can download all the course materials, including slides and assignments.

A free course from Standford so you can learn how to develop for iPhone? Dang, that's great information!
Communications of ACM Blogroll
My blog, The Female Perspective of Computer Science, was added to the Association for Computing Machinery's Communications of the ACM Blogroll in 2010. (See also About the Blogs.)
CBC Radio Interview
Fellow CU-WISE member Terri and I were interviewed on a morning program for CBC Ottawa Radio.  We talked about women in science and engineering in general, and a special event we were planning at Carleton called the Celebration of Women in Science and Engineering.
Top 5 List of Women Tech Leaders to Follow on Twitter
Jo Miller wrote a column for the Anita Borg Institute for Women in Technology on the 5 Women Tech Leaders You Should Follow on Twitter.  I made the list:
5. The Emerging Leader
@gailcarmichael
One to watch! Gail Carmichael is a PhD student in Computer Science at Carleton University, focusing on educational entertainment and augmented reality. She has a passion for encouraging girls to enjoy computer science. Carmichael blogs on The Female Perspective of Computer Science.
I Love Your Blog!
Featured in a BlogHer post called I Love Your Blog!
In The Female Perspective of Computer Science, Gail talks about her graduate student work, mentoring, technical conferences, gaming, gender, and visual computing. She'll be speaking at the Grace Hopper conference this fall, on her mini-course, Computer Science and Games: Just for Girls! Her posts on being female in computer science grad school give a valuable glimpse into specific strategies that women can use to deal with some of the difficulties that come up for women working in a male-dominated field. Gail outlines problems clearly and suggests practical things to do. I appreciate that, and think her advice is applicable in other fields than computer science!
I Am A Technical Woman
I ended up making the cut in the video made during the 2008 Grace Hopper Celebration of Women in Computing.  I'm about 0:49 in.
Blog Mentioned in ACM SIGSOFT Column
My blog was found on a page titled Surfing the Net for Software Engineering Notes, which contains all the links mentioned in a column by Mark Doernhoefer, found in ACM's newsletter for the Special Interest Group on Software Engineering. Check out the November 2008 issue if you have access to the digital library.
I mentioned that blogs allow the blogger the opportunity to create their own community of interest surrounding a specific topic. This blog illustrates this point by featuring one person's (in this case a graduate student in Computer Science at Carleton University) view on her experience as a women in the world of Computer Science. It's an excellent resource for various conferences and projects that focus on women in computing. The blogger, who only goes by her first name, Gail, publishes announcements on events such as the Grace Hopper Celebration of Women in Computing, and the CONNECT project for the social networking of computer scientists. Gail writes very well and manages to maintain an active blog in addition to her class work. In addition to women in computing, other blog articles discuss computer animation and use of animation in video game design and engineering. This is another blog hosted out of the Google Blogger site where, after free registration, you can start your own blog.
Carleton Donor Report
I wrote on my blog about the donor appreciation dinner I went to as a Carleton University student that benefited from donor support. As a result, I was asked to be a part of the donor report via photographs.
Carleton School of Computer Science Video
I was featured fairly prominently in this promotional video:
2008 and 2009 Anita Borg Canada Scholarship Announcements
Google announced the winners of the 2008 and 2009 Anita Borg Scholarships on their official blog.  I was a finalist both years.
In 2003 we established the Anita Borg Memorial Scholarship to honor the work of Dr. Anita Borg, a computer scientist who dedicated her professional career to increasing the participation of women and other under-represented minorities in the field of technology.
Featured in Carleton Now
When I graduated with my Bachelor's degree, an article was written about me in the newspaper Carleton Now.  The article was called Behind the Screen and talked about how I got into computers.  You can read the archived article online.