You are here
Carleton Computer Science Society
I was involved with the Carleton Computer Science Society, or CCSS, from my second year of university until I graduated. In the beginning I simply volunteered my time to supervise the office where course notes and snacks were sold; during my last school year (2006-2007) I served as president.
This section outlines some of my best accomplishments as president.
Computer Science Survival Guide
In the summer of 2006, I came up with the idea of providing something similar to the survival guide provided by Carleton Ombuds Services, but geared specifically for computer science students. I wanted to cover some fun topics like the top five things to do before you graduate (such as attend a geeky conference), as well as some relevant serious information including tips on spending less money and how to succeed academically.
The first edition was the 2006-2007 version. Plans to expand for the next edition are in the works, including a budget for providing printed copies to new students during academic orientation. After graduating, I continued maintain the guide for a few years (here is the 2008-2009 edition).
Identity
Also in the summer of 2006, I worked on making a coherent identity for the society. I wanted all of our posters, publications, and web sites to be easily recognizable as our own. This would help us appear more organized and professional to the general public and help us better promote what we do.
A quick example of our look: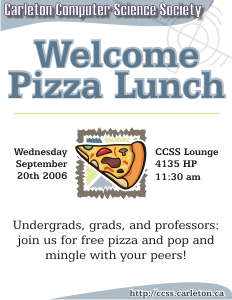 New
CCSS

Web Site

The executive's communications liaison (vp external), Christian, updated the back end of the CCSS web site, switching to the Joomla! content management system (the website has changed several times since then). The switch afforded us the opportunity to create content beyond the existing forums. I worked hard to put together a coherent site that students could really use.

The site contained the following:
News, events, and meeting minutes
Listing of course notes with prices and availability
Volunteers' office hours schedule
Course info wiki that includes student summaries of courses, opinions on difficulty, the need to buy a text book, and past assignments and tests
Nexus wiki with info on how to use the

CCSS

Nexus and Oasis services to host your web site,

SVN

, etc
The aforementioned CS Survival Guide
Photos of past events
Google Calendar with all relevant events
An anonymous feedback service where students can give praise or criticism to professors, passed onto the director of computer science without repercussion
Forums for general and course discussions
Academic Orientation
During Frosh Week at Carleton, there is one day reserved for academic orientation with your faculty and department. In the fall of 2006, the society wanted to provide some fun activities for the incoming computer science students to help them meet fellow classmates and learn more about the society.
The society spoke to the audience of the School of Computer Science's introductory seminar, talking about upcoming events and showing the web site. I had business cards printed with the society's web site address and room number and distributed them to students.
After lunch, we offered a tour of campus from a computer science student's perspective, and then gave two choices of activities to those interested. The first was a programming contest, the second a scavenger hunt. Both events offered prizes to the top performers.
High Tech Job Workshop
This is an event that I started in 2006 with a general tips and advice evening for computer science students. The inspiration for the content came from the fact that the required co-op classes tend to be better suited to arts and business students than to students looking for work in high tech.
For the 2007 workshop, I decided to focus on one aspect of working in high tech and open the even to all computer science students (rather than just those in co-op). The topic was technical interviews. I designed a highly interactive workshop with free pizza at the end. First, our school's co-op coordinator for computer science spoke about his experiences with the managers interviewing Carleton students. He shared insights into what companies are looking for when they come to hire. Next, I discussed different types of interviews, ideas on preparing, and popular questions that can be asked. Participants acted out what not to do during interviews and came up with some interview questions of their own. The event was a great success with a lot of positive feedback from the attendees.
In 2008, I passed the responsibility for organizing this event to the new executive so they could continue giving these events after I was gone. More insight into this is given in this blog post on the subject.